AIAS founding father Morten Kyndrup bids farewell
Appreciated by its research fellows, attracting several huge EU grants and renowned on the international research arena. This is the AIAS legacy that Professor Morten Kyndrup leaves behind, when he steps down on 1 October, after almost eight years as executive director of AIAS.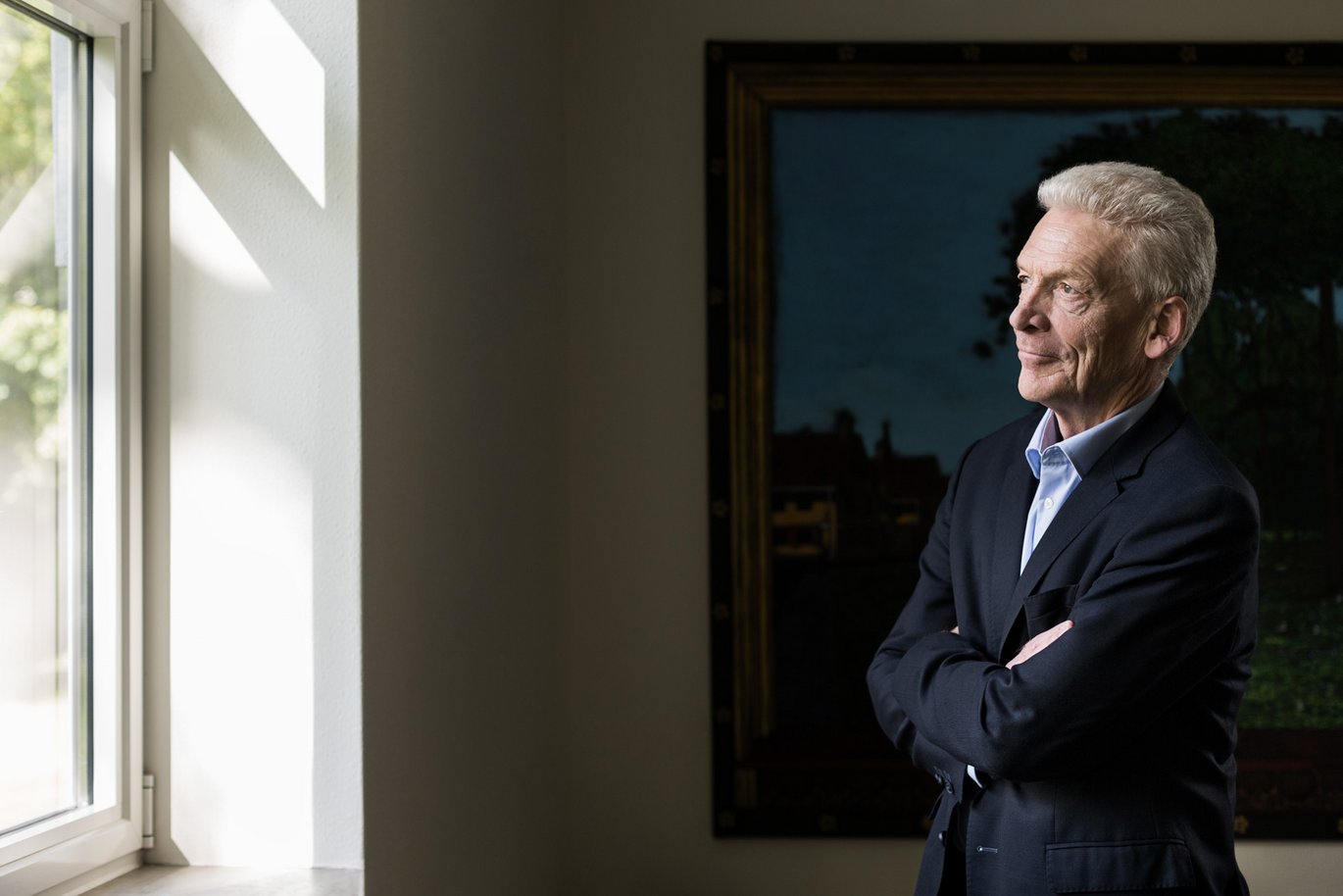 On Friday 20 September at 3.00pm, AIAS hosts a farewell reception to honor Professor and AIAS Executive Director Morten Kyndrup, who will leave AIAS on 30 September to return to his research at the Department of Aesthetics and Culture at Aarhus University. Kyndrup has been with AIAS from before its opening in 2013, from 2012-2019.
From unborn to fully-fledged IAS: funding, attraction, sharp profile
When Professor Morten Kyndrup started working with AIAS in 2012, the Institute was nothing but a pure idea, a sheer nothing. Since then, the Institute has gained weight and height, year by year, but certainly at high speed. In 2013, the Institute was 'born' in a completely, newly renovated building and welcomed its first cohort of fellows. AIAS offers top-level researchers a fellowship with freedom and excellent support to pursue their own, individual and innovative research projects, from 6 months up to three years. A mission that has proved extremely successful, in terms of funding, talent attraction and international recognition.
With Morten Kyndrup's success in attracting the first large grant of DKK 46 million from the European Union's FP7 Programme, in 2014, the infant AIAS soon evolved. A result that led to the commencement of the first 17 AIAS-COFUND Marie Skłodowska-Curie Fellows, in October that year. Later, in 2017 Kyndrup additionally succeeded in attracting another large EU grant of DKK 36 million from Horizon 2020. Along with the EU funding, AIAS has also received regular support from the Aarhus University Research Foundation. The number of fellowship applications received from the first open, international call in 2014 to the most recent in 2019 has increased significantly, with 333 applications received in 2019 for 16 positions.
The devil's in the detail
New AIAS fellows and staff soon notice how director of AIAS Morten Kyndrup is attending to detail and are often caught by surprise by Morten's involvement in the smallest of things and his persistence to his ideas. But they also soon notice, that this is what makes AIAS distinct, what gives the Institute both a unique physical and psychological character. To uncover this uniqueness and get a glimpse of the legacy that AIAS' 'father' leaves behind, we have gathered responses from fellows and the international IAS community.
'Morten has been of immeasurable service to the Nordic and international research world and we all owe him a very big thank you. What Morten has achieved in Aarhus is quite exceptional. I do not believe that any other institute has been built up at once so fast, but at the same time so thoughtful and successful. I do not believe – even if our academic ideology tells us differently – that a better, more dynamic and simultaneously more human leader of a Nordic IAS can be found than Morten', said Professor Björn Wittrock, Former Principal of the Swedish Institute of Advanced Study (SCAS), Sweden.
Kyndrup has certainly been very successful and active on the international arena. Already in 2014, AIAS became a member of the global network for University-Based Institutes of Advanced Study, UBIAS, and Kyndrup was elected chair and coordinator of UBIAS from 2016-2018. Later in 2015, AIAS was admitted to the European Network for Institutes of Advanced Study, NetIAS, and has since contributed actively, latest by hosting in Aarhus the Annual NetIAS Business Meeting and Conference, in April this year, with representatives from 25 European Institutes of Advanced Study.
The Gift of Freedom – or a Researcher's Heaven
Funding, talent attraction, international reputation – is that all at AIAS? Current fellow, Professor of Music and Anthropology at Oxford University, Georgina Born offers her diagnostics of Morten's management and the condition of AIAS:
'Morten has shown exceptional qualities as a mentor and as leader of AIAS, in at least two ways. First, he has had the foresight and generosity to enable all those fortunate enough to be elected as Fellows to follow their own necessities in research once they arrive. This situation of open-ended expectation he portrays as a 'gift' in his opening speech at each half year entry of new Fellows, and this remarkable offering is something that every single Fellow I have spoken to has been struck by, since they feel released into what is hopefully a uniquely propitious and precious creative phase in their work. Against the instrumental pinning of research to measurable criteria and social or economic 'impact', such an approach liberates researchers of all kinds into a phase of work that can certainly prove to be productive, useful and even impactful, but where these qualities are derivative of the creative freedom that is AIAS's gift.
Second, Morten has an outstanding capacity to reach out intellectually to, and to empathise with, the full range of scientific, humanistic and social scientific disciplines that pass through AIAS year by year. Interdisciplinarity is certainly a buzzword of our academic times, and can seem nothing more than a shallow conceit. But it is genuinely a core value of AIAS that the full range of disciplines, and interdisciplines, deserve to be heard, to listen to one another, and to benefit from the strange, oblique resonances, connections and differences that are thrown up when, say, a top cancer biologist listens to a young social anthropologist, or when they are both in dialogue with a mid-career classicist who is considering venturing into cognitive neuroscience. Morten's obvious capacity for open-minded attention, for perceptive comments and for warm good humour set the scene for defences to be dropped and for everyone to participate in such exchanges, without any immediate telos. These are truly unusual and valuable qualities in an academic research leader, and AIAS's first era under Morten's leadership shows their fruits in abundance. As Fellows, including myself as I face the need soon to depart, we can only hope that the next Director of AIAS shows the same community-building ethos based on high intellectual ambition and commitment to creative freedom in research, so that others will continue to benefit from this extraordinary environment in the coming years – as we have gratefully done. And of course, we wish Morten the very best as he is released from these duties and has more time for his own creative adventures!'
AIAS Former Fellow, Michael G. Flaherty, Professor of Sociology at Eckerd College, USA, sends his unconditional praise two years after ending his fellowship at AIAS in 2017:
'I do want to congratulate Morten from afar for the superb work he has done as Director of AIAS. During my year at Aarhus University, I really felt that I had died and gone to heaven. Morten has hired a wonderful staff and put together a beautiful location. Year after year, he assembles an incredibly talented group of scholars in an ideal setting for their work. I am deeply grateful for the opportunity to participate in this amazing experience'.
An AIAS 2.0
In his last 'Director's Account of 2018-2019' of this year's AIAS Annual Report, Morten Kyndrup explains about his decision to step down that '[a]part from my personal motivation for this decision, an institutional one exists too. The "founding fathers" of new institutions may be important, when building something up from scratch. On the other hand, new institutions should not be too closely identified with certain individuals. Parents must let their children stand on their own feet, when the time is right – and this also applies to "founding fathers"'.
When Professor Morten Kyndrup cuts the 'umbilical cord' to AIAS on 30 September, he will hand over the leadership to Søren Rud Keiding, vice dean for research and technology at the Faculty of Science and Technology, who will commence on 1 October 2019 as acting director of AIAS, until 31 December 2020.
Read Rector Brian Bech Nielsen's response at au.dk
Contact
Nikolaj Thomas Zinner, AIAS Deputy director and Associate Professor, zinner@aias.au.dk
Lena Bering, Communications Officer, lber@aias.au.dk
Aarhus Institute of Advanced Studies, AIAS
Høegh-Guldbergs Gade 6B
DK-8000 Aarhus C
Denmark