Hosted Seminar: Professor Giuseppe Calamita
Aquaporins in acute inflammation and sepsis, the emerging role of AQP9
Info about event
Time
Friday 6 October 2023,
at 10:00 - 11:00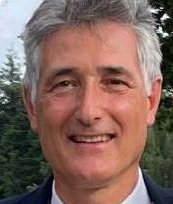 Professor Giuseppe Calamita, PhD, from the Department of Biosciences, Biotechnologies and Environment, University of Bari, Italy, is visiting Aarhus University and invited to give a seminar on the topic of:
'Aquaporins in acute inflammation and sepsis, the emerging role of AQP9'
Abstract
Septic shock is the most severe complication of sepsis, characterized by a systemic inflammatory response following bacterial infection, leading to multiple organ failure and dramatically high mortality. AQP9 is an aquaglyceroporin/peroxiporin mainly expressed in hepatocytes and neutrophils and recently associated with inflammatory and infectious responses. The subject of the seminar will be the results of studies conducted to evaluate (i) the role of AQP9 in mouse systemic inflammation during endotoxic shock and (ii) the effects of a novel small molecule AQP9 inhibitor, RG100204 (patent US20190127360 by ApoGlyx AB, Lund, SE), in a cecal ligation and puncture (CLP) induced model of polymicrobial infection.
Wild-type (Aqp9+/+; WT) and Aqp9−/− knockout (KO) male mice were submitted to endotoxic shock by i.p. injection of LPS (40 mg/kg) and the related survival times were followed for 72 h. Nitric oxide (NO) and superoxide anion (O2−) production, and the expression of inducible NO‐synthase (iNOS) and cyclooxigenase‐2 (COX‐2) were measured in liver, kidney, aorta, heart and lung of mice. LPS‐treated KO mice survived significantly longer than WT mice, and 25% of the KO mice fully recovered from LPS treatment. The LPS‐injected KO mice had lower inflammatory NO and O2− productions and reduced iNOS and COX‐2 through impaired NF‐κB p65 activation in liver, kidney, aorta, and heart as compared to LPS‐treated WT mice. Treatment of rodent hepatoma FaO cells with the AQP9 blocker HTS13268 prevented the LPS‐induced increase of NO and O2−. AQP9 seems to have a role in the early acute phase of LPS‐induced endotoxic shock likely involving the NF‐κB pathway, potentially through mediating uptake of extracellular H2O2, and PTP-dependent signaling.
In vitro, RG100204 blocked mouse AQP9 H2O2 permeability in an ectopic CHO cell expression system and abolished the LPS induced increase in superoxide anion and nitric oxide in FaO cells. Pre-treatment of CLP-mice with RG100204 (25 mg/kg p.o. before CLP and then again at 8 h after CLP) attenuated the hypothermia, cardiac dysfunction (systolic and diastolic), renal dysfunction and hepatocellular injury caused by CLP-induced sepsis. Post-treatment of CLP-mice with RG100204 also attenuated the cardiac dysfunction (systolic and diastolic), the renal dysfunction caused by CLP-induced sepsis, but did not significantly reduce the liver injury or hypothermia. The most striking finding was that oral administration of RG100204 as late as 3 h after the onset of polymicrobial sepsis attenuated the cardiac and renal dysfunction caused by severe sepsis. Immunoblot quantification demonstrated that RG100204 reduced activation of the NLRP3 inflammasome pathway. Moreover, myeloperoxidase activity in RG100204 treated lung tissue was reduced.
Together the results suggest that AQP9 may be a novel drug target in endotoxic shock and polymicrobial sepsis.
Organizer
Professor Lene N. Nejsum
Department of Clinical Medicine
Aarhus University
nejsum@clin.au.dk
Participation
The talk is open for all interested.