AIAS Seminar: Luseadra McKerracher, AIAS Fellow
Food (in)security during pregnancy
Info about event
Time
Monday 21 March 2022,
at 14:15 - 15:30
Location
AIAS Auditorium and online via Zoom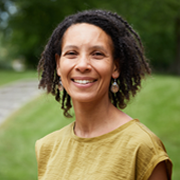 Speaker: Luseadra McKerracher, AIAS Fellow
Participate online via Zoom: https://aarhusuniversity.zoom.us/j/67215252700
Abstract
Food insecurity, the experience or the perception of lacking resources to adequately feed all members of a household, is associated with poor mental and physical health outcomes, particularly increased risks of depression, anxiety, cardiovascular diseases, and diabetes. Some evidence suggests that these negative outcomes may have disproportionate and long-term health implications for babies when food insecurity is experienced during pregnancy. This presentation will review this evidence, and then explore its implications for contemporary and future public health here in Denmark, and touch on possible evolutionary underpinnings for some of these associations.
Short bio
Luseadra McKerracher co-leads several biocultural and health equity research projects, all of which relate to sexual and/or reproductive health, with a particular focus on nutrition during pregnancy. Specifically, in addition to the new project on pregnancy food security she is launching in Denmark, McKerracher has and continues to work on studies related to: pregnancy nutrition in Indigenous Fijians, infant feeding in Indigenous Maya-speakers from Guatemala, food insecurity and other vulnerabilities in pregnant people and in teens in Hamilton, Canada, and reproductive health in LGBTQ+ people.
Read about Luseadra McKerracher's project at AIAS here
What is an AIAS Seminar?
The AIAS Seminar is a session of seminars held by the AIAS fellow or by other speakers proposed by the fellows. In each seminar, one fellow will present and discuss his/her current research and research project, closing off with a question and discussion session.
All seminars are held in English.